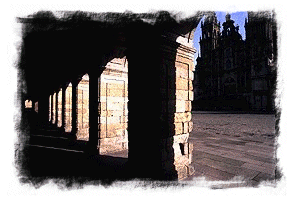 Galicia
Misty, Celtic Galicia in northern "green Spain". A million miles from the stereotypical Spain of flamenco and sangria.(here you find bagpipes and aguardiente) Visit Santiago de la Compostela





and eat wonderful seafood tapas including percebes (goose barnacles) won from the sea at great risk to the fishermen on the "costa da morte (costa de la meurte)", the coast of death.
If you are feeling extravagent, stay at the parador.
Galicia's rias (fjords) are farmed to produce its masses of seafood. Maize and grelos are grown in small fields and stone "horreos" (grain stores)



are to be seen everywhere, distinctively different from the typically wooden ones of Asturias. Often adorned with the Christian cross on one end and a pagan symbol on the other (there is a saying that goes something like "I don't believe in witches but they do exist". Believed in seriously or not, they are exorcised at the Queimada ceremony.
Cambados

is well placed on the coast to sample the local seafood and is a centre for the Rias Baixas area and Albariño wine. There are a number of restaurants serving simple but varied fresh seafood on the main street but we recommend "Ribadomar" on one of the side streets, (look for direction signs or C/Valle Incián) for a little more innovation. Empanadas and pulpo gallego can be found everywhere and we enjoyed eating both at Pontevendra's "Medeval" festa, at which most people dress in medieval style, sometimes even the dogs!. Baiona


is a pretty seaside town with many restaurants, especially in the old town and an excellent parador.
Gallego
Note that many Gallego words vary from Castillian and that "x" should be pronounced "sh", so Rias Baixas, "Rias Ba-has" in Castilian becomes "Rias Bay-shas", double "rr's" are pronounced with a pronounced rolled "r").



Empanada - olive oil pastry pies with a filling of sweet peppers and tuna or meat.
Caldo Gallego - broth of haricot beans, grelos, paprika, potato and pork.
Lacon con Grelos - slow cooked boiled ham, potatoes, chorizos and grelos.
Pimientos de Padron - fried small green peppers, some hot !
Pulpo a la Gallego - octopus stalls can be seen on many street corners.
Queimada - grapa punch made from aguardiente (orujo)
Tarta de Santiago - almond tart decorated with the cross of St.James.
Tetilla - creamy cows milk cheese, in the shape of , well, a tetilla !
Vieras con Jamon - scallops on the shell with ham
Albariño white wine from the Rias Baixas denomination.
Ribiera de Sacra is a recent DO, its vineyards often on steep slopes above the gorge of the Sil, so steep that sometimes fixed steel ladders are set in place to access the vines. Named "Sacra" as many of the vineyards were or are owned by monasteries.
Grelos is the typical green vegetable of Galicia, looking rather like a Brussels sprout without the sprouts, the upper leaves being eaten. The usual english translation is "turnip tops".



A classic empanada
Olive oil short crust pastry made with either a little dry sherry or anis.
The filling.
Saute a chopped onion in olive oil until soft.
Add the drained, sliced red (bell) peppers from a jar or roast two peppers in the oven, then peel and de-seed.
Add a few strands of saffron.
Add the drained contents of a tin of tuna or simmer 400 grams of fresh tuna in water until cooked.
Line a flan dish with pastry, add the fillings and cover with another layer of pastry with a hole at the centre for steam to escape. Glaze with egg and bake in a medium oven until golden brown.
A "modern european" dish using Galician ingredients
Scallops gratin with leeks.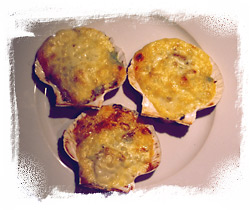 Open and clean the scallops, removing the stomach (black) and the outer "frills". Sever the scallop from the lower curved half shell but leave in place.
Season with white pepper.
Blanch one leek per 4 scallops until soft. Drain and chop finely.
Sprinkle the leek evenly round the scallop and moisten with a trickle of Albariño wine.
Cover with thinly sliced tetilla.
Grill until brown and eat with the remaining Albariño.
The scallop, being sealed in by the cheese, retains its full flavour, complemented, of course, by the soft Galician wine.You can use a little mashed potato to anchor the scallops to the plate (we keep some "Smash" handy for the purpose).


---

Coquille St Jaques
The French call the scallop "coquille St Jaques" and the Spanish "concha de peregrino" referring to the identification of the scallop with the pilgrimage to Santiago (St.James). Pilgrims wear a scallop shell round thier necks and the shell motif can be seen on many buildings. The pilgimage has now become very popular with a constant stream arriving at Santiago.
---
See also :-
CheeseWineSpanish cookery books Cookery reference books
Walking in Spain | Walking in Britain | Spanish photos | Spanish pronunciation & general guidebooks | Andalucia | Asturias | Basque Country | Canary Islands | Castile
Catalonia & Balearics | Extremadura | Galicia | Navarre | Valencia | Tapas | Glossary | Books