Spanish Cheese, as you would expect from a country with a wide range of culinary styles, also comes in a wide variety. Manchego is probably the most well known outside of Spain.Sheep and goat cheeses are both common, the latter in Andalucia, Extremadura and the Canaries (queso de cabra) Mixed milk cheeses are also very common.In Spain quince (membrillo) paste, codoñate, is often eaten with cheese.


Iberico A DE cheese made all over Spain. White, mild and buttery. Mixed milks, at least 50% cows.
Andalucia
Grazalema Similar to Manchego but a little more piquant
Cadiz Firm white cheese, mellow.Goats milk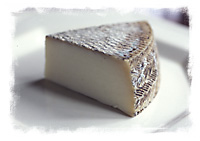 Sierra de Carzola pasteurized goats' milk from the hills. White and firm with patterned rind.(right)
Creamy texture with a subtle piquancy.
Malaga Typical goats' cheese of the region.
Morón fresh mixed milk cheese.
Pedroches Golden ewes' cheese from near Cordoba.Stored in olive oil.
Asturias and Cantabria
Afuega'l Pitu (or afuega el pitu) alpine cows' milk, spreadable but dry.(DO due).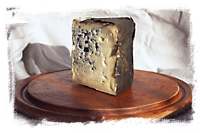 Cabrales (right)Blue, various milks, matured, wrapped in chestnut leaves and matured in caves in the Picos de Europa.(DO)
Veyos Strong white cheese, mixed or variable milks.
Quesucos de Liébana Goat, cow and sheep mixed milk cheese from Camaleño valley in Cantabria.(DO).
Ahumado de Aliva Smoked over juniper wood. Cantabrian.
Picón Bejes-Treviso Three milk cheese similar to Cabrales from Cantabria.(DO)
Gamonedo Slightly smoked blue from Onis and Cangas de Onis. Less viened than Cabrales.
Pido Cows' milk soft cheese from Liebana, Cantabria.
Cantabria DO of Cantabrian semi-soft cows milk cheeses.
Basque.


Idiazabal Firm, waxy, may be smoked, ewes' milk (Latxa sheep). (DO)
Pasiego prensado Santander cheese, mild with yellow rind.
Quesucos Unpressed mixed milk cheese.Also Cantabria.
Canary Isles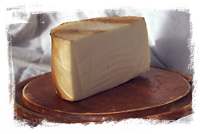 Majorero goats' milk cheese from Fuerteventura.(DO)
Palmero Goats' cheese from La Palma (DO)
(right.Gran Canarian smoked goats cheese, "Queso Flor Valsequillo")
Castile-La Rioja-Leon


Manchego La Mancha ewes' milk cheese, sold from fresco, soft through semicurado to curado, hard. Herringbone pattern on rind from the mould, depicting the original esparto wrapping. (DO)
Pata de Mulo ewes' milk Villalón
Camarano Cottage cheese. La Rioja
Burgos white, fresh, smooth, mild. ewes milk.
Leon Mellow cows' cheese.
Oropresa Similar to Manchego.
Soria White fresh goats' cheese.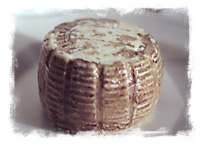 Suspiro(right)From Toledo, pasturised goat
Valdeteja Goaty goats' cheese.
Villalón Fresh white sheeps' cheese
Romero sheeps' cheese covered with rosemary
Azul Valderon Blue cheese from Leon wrapped in maple leaves. Also known as "Picos Blue".(DO)
ZamoranoSheeps' cheese from Zamora.Straw coloured. Rind like Manchego (DO).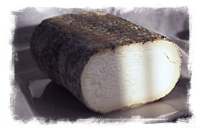 Monte Enebro (Valle de Tietar) (right) semi cured white goats' cheese in a penicillium mould.
Catalonia
Cendrat coated with ash


Mahón Freisan cows' milk. Eaten young or old, sometimes preseved with oil and paprika.Menorca in the Balearics (DO).
Montsec Hard goats' cheese
Recruit ewes' milk fresh
Tupi soft sheep cheese from Pyrenees.
Serrat ewes' milk, Pyrenees
Val d'Aran cows' milk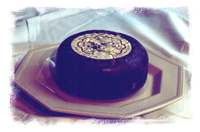 Garrotxa(right) Greyish rinded mild goats cheese
Can Pujol Soft goats' cheese. Hand moulded.
Alt Urgell y la Cerdanya Semi soft cows' cheese.
Extremadura
Ibores Hard goats' cheese, white in colour, may have rind rubbed with paprika (DO)
Torta del Casar ewes' milk, soft centred.
Plassencia Semi hard goat's cheese.
Serena Yellow sheeps' cheese with holes.(DO)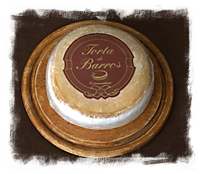 Torta de Barros (right) raw ewes' milk (and goats' milk version), excellent soft centred cheese.
Torta la Serena Ripened Serena with centre of ripe liquefaction.






Tetilla (right), young, mild and buttery with pleasant hint of sharpness, in shape of woman's breast. Cows milk. (DO)



San Simón (right) cows' milk cone shaped semi matured, slightly smoked, looks like a darker Tetilla.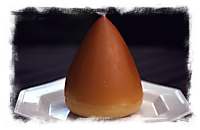 Cebrero Pressed firm cows' cheese from Lugo.
La Peral Soft ripened brie like cheese.
Arzua Ulloa (right, below), Gallego, Patela Mild soft creamy cows cheese.
Palo Santo Rather like tetilla in a block.
Murcia
Murcia al Vino A new goats cheese wine with a wine rubbed rind.(DO)
Navarre
Roncal hard sheeps' cheese (DO)
Tudela Manchego look alike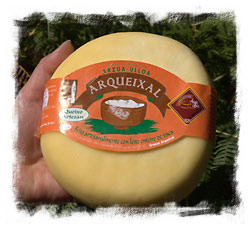 Valencia
Tronchón hard, also know as Aragón.
Alicante Cows' milk, fresh clean taste.
Cervera Ewes' cheese like Burgos.
Puzol Fresh sheeps' cheese eaten young.


In my opinion a big cheese not to miss
DO Denominación de Origin, regulated, from a specific geographical area.
DE Denominación Especifa, regulated, but not necessarily from a single geographical location.