---

Merluza con almejas - hake and clams
In a earthenware casserole soften some onion and garlic in olive oil, add fish stock and parsley and white pepper. (the sauce can be thicked by adding flour before the stock or by emulsifying) add the hake steaks (which will cook in a few minutes) and the clams. Once the clams open serve in the pan decorated with white asparagus spears.
(ingredients per 2 spider crabs)
1 leek, 1 carrot, half an onion, 4 tomatoes
brandy, olive oil, butter, breadcrumbs, a nora, rice.
chop leeks carrot and onion up small
boil and drain the crabs (10-12 minutes)
remove the meat (keeping top shell intact if you wish to serve in it)
grind the shell and claws to powder.
add the ground shell to olive oil in a pan and add the vegetables (not tomatoes), cook until tender.
put a cup of brandy in a pan and ignite, add the peeled and chopped tomatoes, a chopped nora or some hot paprika, a little white wine, some fish stock and a tablespoon of short grain rice. Simmer for an hour then strain and reserve the liquid.
warm the crabmeat in some butter, add a splash of brandy and ignite.
add the reserved liquid and the vegetables.
Stuff the shells with the mixture (if using). Sprinkle with breadcrumbs and dot with butter and heat under the grill for a few minutes.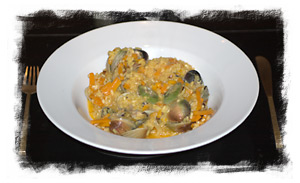 Arroz con almejas (clams and rice)
Iingredients:-
Fish stock (we use salmon, hake might be more authentic)
three carrots and a leek, julienned
an onion, chopped
Fresh clams (soaked in water to remove sand)
a clove or two of garlic, chopped
a cup of short grain rice
saffron and paprika.
Sweat the onion, carrot and leek and garlic in olive oil, in a cazuela or heavy pan until softened.
Add the rice, saffron, paprika and stock (add additional water if needed) to just cover and simmer till soft.
Add the clams and raise heat till clams open, discard any that do not.
This recipe is adapted from Pedro Subijana's "Akelarre".

---
See also :-
CheeseWineBasque cookery books Cookery reference books
Walking in Spain | Walking in Britain | Spanish photos | Spanish pronunciation & general guidebooks | Andalucia | Asturias| Basque Country | Canary Islands | Castile
Catalonia & Balearics | Extremadura | Galicia | Navarre | Valencia | Tapas | Glossary | Books