Key


Spain


Galicia


Basque


Catalonia


Balearics


Andalucia


Canaries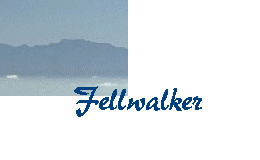 Walking in Spain & its islands - Guide Books & Maps

Spanish walking guide books

Spanish food

Walking maps

Spain, weather, history

Walking destinations

General Spanish guide books

Birdwatching in Spain

Canary Island walking

Camino de Santiago (Way of St James)

Picos de Europa

Spanish language

Search Amazon .uk or .com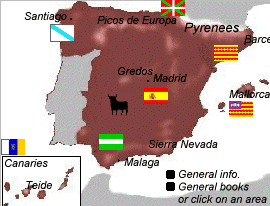 Spanish people love to walk, but they don't generally go about it in the way the British do. Where our inclination is to head out of town and find a public footpath, they will head for the centre of town and 'paseo'. And they won't be wearing baggy shorts and boots, they will wait until the day cools into evening, put on their best clothes and parade past each other in the town 'Plaza Mayor' or down a 'Rambla' until it is time for dinner at about midnight (in the cities). In a generally hot and dry country this isn't surprising, sweating across the 'meseta' under a blazing sun is no fun (except for mad dogs and Englishmen? The sensible learn to siesta). The best walking therefore is away from the midsummer heat in the mountains and islands. Spain has a strong and fascinating culture which can add a lot of enjoyment to a trip. Combine a city break in Madrid with the Gredos or Barcelona with the Pyrenees. A beach holiday in Mallorca with walking in its mountains or mix the high mountains of the Sierra Nevada with the sleepy 'white towns' of Andalusia

Spain is not a crowded country, forget your holiday brochure images of the 'costas'. Hire a car almost anywhere in Spain and you can be in country untouched by tourism in half an hour. Spanish people like each others company, so everybody crowds together in the town, so you won't find straggling suburbs carrying on for miles like London or Los Angeles (USA). There are mountain ranges and gorges to be found all over Spain but the Pyrenees, Picos and Sierra Nevada are the most significant. The central meseta (tableland) forms a high flat plain around Madrid with roads running in straight lines for miles. Only the south (Andalusia) has the characteristics usually associated with all of Spain (gazpacho, flamenco, gypsies and mañana1). Central Spain is the land of the serious Castilian with his castles and roast meat. Barcelona and the rest of Catalonia is almost a different country with its own language (as do the Basques and Galicians) and a similar relationship to Castile as Scotland does to England. The extensive north coast of the Basque country, Cantabria, Asturias and Galicia are much cooler than the rest of Spain, although the Spanish exaggerate the amount of rainfall there (from a British viewpoint).
1 mañana can mean tomorrow (adverb), tomorrow morning (feminine, mañana por la mañana) or the future (masculine).
I have used the

symbol to indicate a good walking destination in the area guide section rather than to indicate the best book as choice of book tends to depend on the balance of walking/climbing information required.
Goto Area Guide Books index
Some possible destinations
Cazorla Camp or stay at the parador among the wild pigs and pine martins.
Mallorca combine a beach holiday with the mountains of the north.
Pyrenees enjoy hut or tent based walking in the better weather of the Spanish side.


Picos de Europa walk the lip of a gorge, stroll up to the real Las Vegas or climb a serious mountain.
Sierra Nevada mountains (often snow covered - with some piste skiing) above the Andalusian coast and the Alhambra at Granada .The Sierra Nevada is little used for walking and solitude is almost guaranteed away from ski developments.
Tenerife- Teide, Spain's highest mountain and volcano at the centre of a holiday island .
La Palma Volcanic island in the Canaries.
Gran Canaria Start walks high in the mountains.
Maps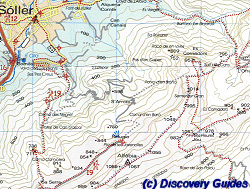 Spanish maps can often be obtained from specialist suppliers such as Stanfords in Long Acre, London and Corn Street Bristol. (email Stanfordsmail order)
Spanish O.S. maps: Servicio Geografico Del Ejercito produce Cartografia Militarde España - series L maps 1:50,000, C at 1:100,000 and 2C 1:200,000
The I.G.N.(Istituto Geografico Nacional) produce folded sheets of areas of interestat 1:50,000.
I am afraid few of these maps are quite up to O.S. standard, perhaps we get a little spoilt in Britain.
The Canaries are covered by Freytag & Berndt maps at 1:35000-1:75000. These maps show hiking trails in red which can be expected to exist on the ground and be waymarked. They also show black dotted footpaths of a less certain nature. Roads are graded to differentiate tarmac and jeep tracks. Although in National Parks jeep tracks may have been closed to vehicle access and are now used as footpaths.
Discovery Walking Guides and maps (small section reproduced here- above right) are setting the standard for spanish maps.
Regional guidebooks with general information and typically 34 route descriptions + short walks backed up by map excerpts at 1:25000 and 1:40000 and photos.
Tour and Trail maps at 1:40000 complement the guides, showing routes and printed on durable or indestructible material. Walkers' maps are of 1:25000 scale, again to match with the guides but at a scale ideal for individual walks.
Drive! touring maps with city street plans are ideal for the motorist. All the maps are GPS1 ready and are far more accurate and up to date than typical Spanish mapping.
GPS navigator are available on a CD ROM

1] If GPS is a mystery to you try "GPS the easy way".

Best selling introduction to GPS.
Discovery UK guides

---
Jeep tracks and "Forestals"
If you hire a 4x4 and decide to follow jeep tracks to get to the start of walks or as an end in themselves, do bear in mind the possibility of breakdown, always carry clothing, food and water in the vehicle. As 4x4s kick up a lot of dust (especially in the dry Canary Islands) I stop or drive at walking pace when passing walkers or riders. Don't risk getting stuck by tackling routes that look excessively steep or rough. Do respect any signs restricting use of tracks to walkers. Many tracks are sufficiently exposed for a mistake to result in very serious consequences indeed. In any case the degree of insurance cover may be ambiguous when operating off tarmac, even in patently off road vehicles. Ordinary cars are not suitable for forest roads due to the lack of robust tyres and lack of ground clearance, although you will often see the locals using them to get to barbecue (merendero)sites.
---




Walking in Spain Lonely Planet 13x18cm 440p colour

Trekking in Spain by Marc Dubin has now been replaced by this new edition written by a team of writers. It therefore gains in breadth but perhaps loses something in character. If you see the old one going cheap secondhand I think it is well worth adding to your collection. The new book doubles in size to about 400 pages and covers all the main areas with the welcome addition of two Canaries (Tenerife and Gomera). Covers Gredos, Guadarrama, Pyrenees, Cordillera Cantabrica including Picos, Galicia, Valencia, Mallorca, Andalucia (Cazorla, Sierra Nevada, Grazalema etc.) Tenerife, Gomera and the Camino de Santiago. It doesn't really make sense to consider planning a walking trip to Spain without this volume if only for the chapters of basic information- facts about Spain, facts for walkers, how to get there, health and safety and getting around.
Also - Walking in Andalucia Santana





Eyewitness Spain av280p 13x22 colour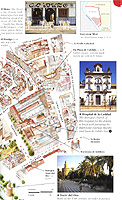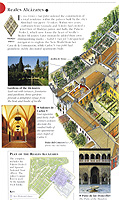 Excellent pocket sized general guide with heavy emphasis on visual presentation by maps, 3D street plans, cutaway diagrams, drawings and photos. Remarkably easy to follow compared with a written guide. Also these guides hit those little things that can be so useful. For instance - photos of the different kinds of police uniform and their cars (with descriptions of their duties), what letter boxes look like and photos of bus stops not to mention typical brandy bottles!
History and culture. "What to see" with cutaways and floorplans so you will not need further guides. Street maps. Restaurant and hotel listings. Entertainment. Survival guide. Travel information.
"The guides that show you what others only tell you".
More detailed local versions (recommended) :-
Seville and Andalucia




Barcelona and Catalonia




Madrid