The meseta




Coca



Belmonte



Segovia



Escalona



Consuegra



Téllez Girón



Salamanca



Toledo



Almagro menu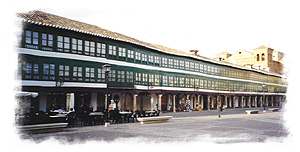 Madrid, Castile - Leon, Castile - La Mancha and La Rioja
Castilla (pronounce Kas-tee-yah, in english "Castile", ) is the land of roast meat. Suckling pig and lamb roasted to tender perfection by an asador. Segovia



is a good place to sample these dishes, or one of the small towns in the area, such as Sepúlveda, Turégano or Pedraza. Pedraza (picture below) is a particularly attractive hilltop fortified town with castle and an attractive main square.
Such roast meat can be found closer to home (for me!), "Parador" in Reigate, Surrey (UK) for instance produce a very passable dish of suckling lamb or pig, but for the total experience make a pilgrimage to "Casa Botin" founded in 1725 and probably the oldest restaurant in the world. Casa Botin, Cuchilleros 17 Madrid phone 266 42 17.
Almagro (top right)

has a charming green painted Plaza Mayor containing an ancient theatre, Corral de Comedias, and several tapas bars. We liked El Bar del Gordo, ("bar of the fat man", and he was!). The upmarket restaurant El Corregidor (926 860 648)

is just off the Plaza Mayor at Jeronimo Ceballos 2. If you cannot get a booking (you will need to book ahead) they have an interesting Aladdin's cave of a bar on the ground floor. Don't forget to buy some of the local speciality, pickled baby aubergines, from one of the shops. The Parador is about 100 metres away.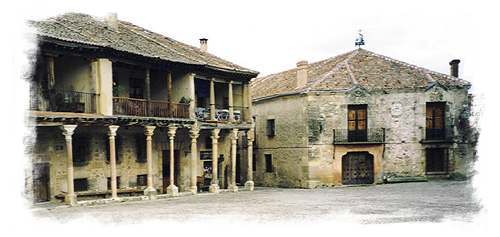 La Rioja is of course home to one of Spains great wines "rioja". La Rioja lies to the north of the central meseta on the borders with the Basque country and Navarre. It is devided into three wine regions :Alavesa, Alta and Baja. Tempranillo is the most important red grape in the region, followed by Garnacha, mainly grown in Baja. Viura is the main variety used in the (less popular abroad) white wines.
Tablas de Daimiel - a walk and a typical country restaurant.


Chorizo - spicy sausage
Morcilla - black blood sausage
Migas - fried breadcrumbs with a little chorizo and bacon
Cocido - stews
Yemas - egg yolk and sugar
Sopa Castellano - garlic soup
Pisto Manchego - roast vegetables resembling ratatouille, often served with eggs.
Duelos y guebrantos - scrambled eggs with pork
Bacalao a La Mancha - salt cod with mashed potato and garlic served chilled for breakfast
Manchego sheeps cheese.
Saffron from La Mancha.
Farinata sausages are a specialty of Ciudad Rodrigo, these modestly piquant sausages have a distinctive even but granular texture.
Rioja wine.

Madrid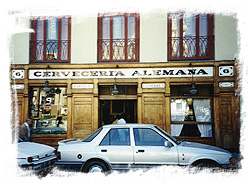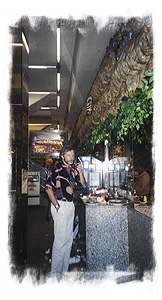 Madrid has a vast number of tapas bars, we spent a long "lunch" exploring a few of them. Starting with the originator of bravas sauce at around noon, then on to one specialising in prawns served with sweet red wine, then "Museo de Jamon" (part of a chain) and so on until we ran out of cash at 2 am in one of Hemmingway's old haunts, the "Cerveceria Alemana" which was fortunately opposite our hotel.