Tablas de Daimiel near Almagro
A traditional La Mancha meal and a walk in the nature reserve.
Tablas de Daimiel is a wetland nature reserve with three easy waymarked walks (some on raised walkways over water). In summer it could be very hot and insect repellent could be required. There are several hides and we were able to see a large flock of storks, a bluethroat and harriers, as well as numerous waders and ducks, in a short February visit. Due to agricultural water extraction the wetland is now a pale shadow of its former self but attempts are now being made to conserve water supplies and increase the area of standing water.
40K from Cuidad Real on the Madrid road, north of Daimiel.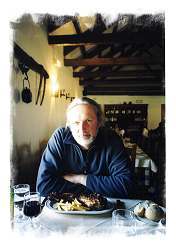 Restaurante (upstairs) and tapas bar "Meson de la Duquesa" (926 69 31 83) is a short distance away for a typical meal of the region before or after the walk. (Pisto Manchego, migas, Manchego cheese, roast lamb, steaks). Local artisan produce is also on sale.
After a pisto Manchego tapas and a beer downstairs, some cheese as an aperitif and a starter of migas, I had the usual huge piece of lamb (picture, right) remarkably easy to eat due to its tender succulence. In this case the chef must have had vegetarian tendencies, as there are a few chips and a small roast red pepper as accompaniment.
Feb 2003.

Reports that the area is dry (with underground peat fires) and without birds due to the effects of agricultural water extraction are out of date

Feb 2012.

Cañón del Río Lobos

The limestone canyon is 25k long and situated west of Soria and south east of Burgos. The SO960 bisects the park and the N234 passes to the north, the SO920 passes through the southern extremity. If not doing the whole walk there is car parking at the half way point south west of San Leonardo de Yague at Puente de los 7 Ojos (information centre here and at the two ends). There is accomodation at Hostal Torres <website> . The large car park at the southern end near Ucero is much more busy in high season (and is best avoided then) due to the dramatic nature of the cliffs and landmarks north along the gorge in the first 4.5k. Underfoot the walking is easy and level in summer, in winter there may be more water and the hike is not recommended in wet weather. Butterflies are plentiful in season, as are vultures. Spanish juniper, black pine, lucitanian and holm oak. Shrubs include lavender, thyme and sages. The ledges hold griffon vulture, golden eagle, short toed and booted eagles. Birds of prey include peregrin, goshawk and kestrel. There are also owls (eagle, long eared, barn, tawny, scops and little).Frogs, lizards and snakes, roe deer, wild boar, rabbit, red squirrel, brown hare, red fox, beech martin, weasel, badger, otters and bats.
September 2007
Food of Castile
Birdwatching in Spain