This page is now at my UK site, please click here
Where there is a price button


you may order the book from the bookseller
Island Harvest Nick Nairn


Glasgow restaurateur Nick Nairn creates over 100 recipes using fresh Scottish produce. From Nettle soup through Cullen Skink to Monkfish with cumin roasted carrots and Roast Salmon with lobster vinaigrette and courgette fritters. Turbot on a bed of braised peas, lettuce and bacon is a favourite of mine, although I tend to economise and do it with cheaper frozen fish (Cheapskate!).


Great British Chefs Kit Chapman


I have the book in the original two volumes, but the current version (17 chefs) cannot fail to become a most used source of recipes 272 pages.
My favourites from my two volumes are:-
Carol Evans -ice bowls filled with sorbet and ice cream (mint leaves are frozen into the ice - I have known guests helpfully stack them up for washing up!)
Phil Vickerys - Seared salmon coated in spices with spring onion creme fraise on couscous. (as I look at the page I can see the marks and stains that testify to a recipe being actually used - I like cookbooks to show the scars of battle ! )
Rowley Leigh - Griddled Scallops with pea and lettuce puree and mint vinaigrette (a masterpiece of flavour combinations)
and Gary Rhodes - Salmon and Sea Bass Mille Feuille (flavour and elegance)



The Star Chefs cookbook
Lives and recipes of 18 Michelin starred chefs. Obviously not for beginners. But the pen portraits would be of interest to the non cooking restaurant goer with a deep pocket !
Example recipes:
- Roast seabass, chorizo, confit of aubergine infused with picholine olives and sun dried tomato juice.
- Mussel soup with saffron.
- Darne de turbotin grilee avec sauce ciboulette.
Most of the complex recipes use expensive ingredients making this either a cookbook for the affluent or a famous restaurant /chef book for the parsimonious food-voyeur.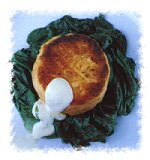 The Ivy AA Gill
As much a souvenir of a visit to the restaurant as a cookbook, but a valuable addition to the bookshelf. Experience a day in the life of the Ivy and learn to cook its classics.
"1.30AM....the air conditioning cuts out. All day it has been a blank white hiss, almost unnoticeable beneath the eddying noise of the restaurant. Now the silence lets in the arbitrary ambient sounds of the early morning city - the clank and howl of traffic, a drunk singing " Guide me, O Thou Great Redeemer" somewhere down by a lap dancing bar, the beep beep of a reversing rubbish truck. The sounds of London filter in like drizzle rinsing away the ghosts of dinner....
...Eating is the only essential bodily function that we seek to do in the company of strangers, with its ancient lines of unwritten but communally understood rituals and manners that have to be implicitly agreed for a restaurant to function."
Excellently illustrated with "food portraits" including the famous fishcakes illustrated (detail) and candid shots by a team of photographers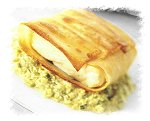 Passion for Seafood
Gordon Ramsey
Gordon Ramsey has been awarded two Michelin stars for "The Aubergine" Here he concentrates on fish cookery from buying, equipment, preparation through cooking techniques to the recipes. Examples of the latter are Fennel soup with pan roasted cod,crab ravioli with sauce vierge, stir fried monkfish with peppers and pak choi, cod with a butter herb crust, dorade royale with spicy couscous and (illustrated) brill wrapped in crispy potatoes with a fondue of leek (this is impressive once you master it, you will need a mandolin)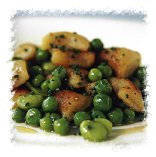 A chef for all seasons
Gordon Ramsey
The genius of Ramsey matched to fresh ingredients in season. Ricotta gnocchi with peas and broad beans (illustrated) is a favourite of mine. The book is devided into four sections by season with an introduction on the produce that can be bought fresh at that time of year. Its a pleasant surprise to choose from the appropriate section and find all the ingredients available fresh in the markets.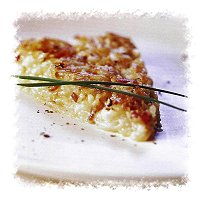 A passion for vegetables
Paul Gayler


There are numerous books of vegetarian cooking, this is a book of vegetable cooking for the general cook. If I ever feel at a loss for an interesting vegetable accompaniment I turn to this book. There are also numerous things here that will stand alone, a favourite is "Jerusalem artichoke rosti with brie, bacon and cumin" (illustrated), just as good with potato instead of artichoke. "Braised thumb aubergines, Persian style" with pomegranate juice, tomato and harissa is good. "Mediterranean style carrot and beetroot" will partner any red meat (this has become a late summer standard of mine once our carrots and beetroot are ready for pulling). "Parsnip gnocchi with wild mushrooms" is excellent as described or the gnocchi alone make a good accompaniment to a beef stew.
Guild of Food Writers "Cookery book of the year"




More Paul Gayler books
Anton Mosimann's Fish Cuisine
To my mind Mossimann has an unrivalled ability to match a fish to the most appropriate supporting flavours.
Brill with mustard in vegetable coats
Sole mouse with lobster stuffing and broad bean sauce
Halibut with red onions
Sea bass with cream and caviar sauce
Turbot in filo with champagne sauce
---
My current favourite recipe - Brill in filo parcels
The logic of the recipe is that all of the flavour of the brill is captured in the parcels or the sauce, the filo trapping the flavour of the fish without overpowering it. Cooking time 30 minutes.
Fillet and skin a brill and put the fillets to one side.
Put the fish frame and head in a pan of water and boil for 20 mins to produce a fish stock. Discard the bones, strain and add a little white wine. Reduce.
Fold the fillets over on themselves and wrap the fillets in a single layer of filo. Bake in a hot oven for 10 minutes on a oiled tray.
Meanwhile add creme fraiche or cream to the stock to make the sauce and simmer.
Accompany with boiled new potatoes, dwarf carrots and green asparagus.
To serve make a pile of the dwarf vegetables and rest the parcel on top, add the potatoes and pour the sauce onto the warmed plate so that the filo parcel remains above it, to avoid sogginess.
Alternative fish - turbot, lemon sole

---
Reference works I make no apology for the heavy emphasis on the works of Alan Davidson.

The Oxford Companion to food - Alan Davidson


20 years in the writing. Huge improvement on the over French Larousse Gastronomique. Everyone should have one.
Opening at a random page I get.... Gallimaufrey, Game, Gammelost,Gaper, Garden Mace,Garfish,Garlic ,Garum. 865 pages. 2650 entries.
"The major scholarly work of the decade" Observer
This Is one of those books you can annoy people with, you will keep on saying things like "did you know avocado means testicle" or "how long does it take to boil a potato in La Paz?1" and "don't eat Balut in the Philippines 2" or "Balti is really a cookpan you know".




Also: Penguin paperback version




1 up to two hours due to altitude
2 Its a fertilised egg complete with chick

Mediterranean Seafood Alan Davidson


The fish, crustaceans and molluscs, illustrated and described with European names and a selection of recipes. Essential when travelling abroad 432p 21.5cm x 14cm



North Atlantic Seafood Alan Davidson



512p 20cm x 13cm As with "mediterranean" above for the cold water fish.



Seafood A Connoisseurs Guide & Cookbook Davidson & Knox Lavishly illustrated with Charlotte Knox's field guide standard paintings of the fish and seafood described. 208 pages. With a section at the end on seafood cookery, equipment and sauces.

Tools for Cooks Christine McFaddon
Inputs from Raymond Blanc, Rose Gray, Madhur Jaffrey, Jamie Oliver, Ken Hom & others.
If you don't know why sugar pans are copper, what a mandolin1, salamander or chinois are for, what shape of knife to use to bone fish or cut cheese, or how to maintain that essential aid to meringue making, the copper bowl, this could be a book for you. 142 pages of illustrated kitchen essentials (no gimmicks) with explanations of how to use them and illustrative recipes. Appendices of manufacturers, retailers and web resources. Splash proof cover.


1 Mandolin - basically, an adjustable blade set in a metal plate with a guide and food holder to facilitate the thin slicing of foods. Simple versions without guide and holder are very useful for removing fingertips !


Jane Grigsons Vegetable Book


Definitive. Every vegetable described by the late Jane Grigson with cooking methods and recipes. Essential for every cook. 607 pages



and the companion volume :-
Jane Grigsons Fruit Book ditto for fruit ! 510 pages



Food Lovers guide to Britain Henrietta Green
1000 places to find good food in England, Scotland and Wales (currently 96/97 edition) foreword by Derek Cooper of Radio 4's "The Food Programme"