Spanish cookery books and food books in English
Spanish regional food including Andalucia, Basque, Catalan, tapas, restaurants and travel guides.
El Bulli
Click the Amazon buttons for UK price and secure purchase.
Amazon search


Culinaria - Spain Koneman 32x28cm 488 pages colour
Coffee table sized tome by a German team of writers. Exhaustive and comprehensively illustrated. Excellent value for money. Good Spanish reference source but not as strong for actual recipes.



The Taste of Spain - Domingo & Hussenot 24x31cm 250p colour


Large format book giving an insight into the food cultures of Spain. Includes representative receipes and good photographs. Covers everything from the tapas tradition to the roast meats of Castile, bacalao, Basque gastronomic societies, Valencian rice dishes and of course wine including 'sherry' from Jerez.You will eat better in Spain if you read this book before you go.


For a smaller/cheaper book try "Essential food and drink" or "World food-Spain" below.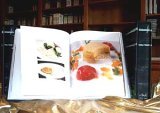 El Bulli F. Adria
El Bulli has been voted by chefs the best restaurant in the world. The El Bulli cookbooks cover the back catalogue of their creations, which incidentally can be sampled at the El Bulli hotel, Benazuza. They are first published in Catalan and Castilian, English versions become available later. More about El Bulli cookbooks
ElBulli 2005


ElBulli 2003-2004


ElBulli 1998-2002


see also:-
Bulli 1994-1997


Bulli 1983-1993

---
"Hay Churros"
If you spot a sign in Spain saying 'Hay Churros' at breakfast time go in and ask for 'Chocolate y Churros por favor'. What will arrive is the thickest cup of hot chocolate you have ever seen with a plate of deep fried 'fritters'. You eat this by dipping the churros in the chocolate (this is perhaps not for weight watchers). This aside, the Spanish diet of fish, olive oil, fresh vegetables (and cigarettes!) is proving a very healthy one. Vegetarians however may have some difficulties in restaurants.
---
Essential Food and Drink Spain 128p 10.5x18cm colour
Pocket size book briefly explaning the Spanish cuisine. Covers eating out, Recipes, wine, regional specialities, shopping, eating cheaply (not hard in Spain) etc.



World Food - Spain 303p colour Lonely planet
Another pocket sized guide to spanish food. Topics covered include an introduction to the food culture of Spain, followed by an item by item investigation of the spanish cuisine and its wines, along with the regional variations (although the division into regions is odd, lumping Andalucia together with Castile as "the heart of spain"). It then comes into its own with guides to markets and restaurant areas. Nine spanish cities get a "restaurant walk" map:- Sevilla, Madrid, Cadiz, La Coruna, Santiago, Valencia, Barcelona (though oddly ignoring Barceloneta), San Sebastian and Hondarribia. The book finishes with phrase book, culinary dictionary (40 pages) and further reading list. (On the phrase book I would argue with the desirability of using the phrase "Menu la carte" as being too likely to result in the arrival of "menu del dia" - the meal of the day. A simple "La carta por favor" is much safer). I also disagree with the assertion that tipping does not exist in Spanish restaurants, but it is discretionary and its also low level, perhaps just 5% or round up the total.
There is also a "Keeping healthy" section which had me bemused at first with talk of "dangers of losing weight". In Spain? Then I realised that this section probably appears in all the series of books and is perhaps aimed at more "developing world" destinations. This section had a cut and paste feel to it, having started with weight loss it drifted unannounced into the plight of the vegetarian in Spain. I liked the comment that "spanish chefs often believe dead pig is a vegetable".
Given its pocket size this is an excellent book to pack for anybody trying to get to grips with Spain's food culture. A little of the advice is aimed more at the US (explanations of the non existence of side orders - have your salad as a course) but on the whole a fascinating little book to get you into the right restaurant and out of trouble and packed with little vignettes to pass that hour waiting at the airport or station.



The Food of Spain and Portugal - Elizabeth Luard
Elizabeth Luard moved to rural Andalucia with her young family (her passport to the attention of her neighbours) and was educated by the country people in growing and cooking food in the local ways.
This book is an introduction the foods of Spain and Portugal, covering the well known dishes and including background information on travel and history. There are also dishes that the casual visitor to Spain may be unfamiliar with, such as Trucha en gabardina, (trout in its "overcoat" of ham) and hare with chocolate.



The Cuisines of Spain - Teresa Barrenchena
Teresa Barrenchena is a Basque restaurant owner, living in the US. Following her book on Basque food, this volume covers the whole of the Spanish cooking traditions, including the historical and geographical influences. Hundreds of recipes cover all the favourites, such as paella and arroz negro. Well illustrated.



1080 Recipes - Simone and Ines Ortega
Spain's best selling cookbook (2 million copies sold) now translated into english. Illustrated with colour line drawings and some photos. Foreword by Ferran Adria. For Spain, what "Silver Spoon"

is for Italy. Informative on the basics, origin, season, selection, nutrition, preparation and "tricks" as well as 1080 recipes ranging across spanish cuisines and some foreign dishes eaten in Spain, sometimes given surprising treatments, such as "york ham sandwich" which turns out to be pressed * and deep fried in egg. The recipes are as clear and unfancy as the "overhead" view photographs. Originally published 35 years ago and periodically updated. Unusually not devided regionally, rather by the spanish courses of appetisers, cold plates, tartlets, soups, rice, pulses, potatoes and pasta, vegetables and mushrooms, egg flans and soffles, fish and seafood, meat, poultry, game, offal and desserts. With some menus from celebrated spanish chefs such as the Roca brothers and Sam and Sam Clarke of Moro!
* use this book!


---
One of the above guides matched to a good general guide like "Eyewitness" should see you well equipped for that "tapas crawl" when you hit the streets of Spain.
---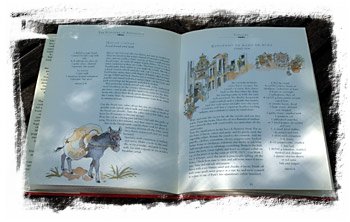 The Flavours of Andalucia- Elizabeth Luard


Winner of the 1992 Glenfiddich Award for Food Book of the Year, this is my favourite book on Andalucian cooking, beautifully illustrated with the authors own watercolours. Drawing on her years there, the dishes are further regionalised within Andalucia. Her recipe for broad bean and artichoke hot-pot, "habas a la granadina" inspired me to plant a row of globe artichokes and grow broad beans each year to do justice to the dish. Potatoes with almonds and saffron is another favourite as is "pepitoria de pollo", chicken with almonds.



Moro
The book of the restaurant[1]. Moorish cooking extending out from Andalucia into other mediteranean areas for its inspiration. Easy to cook recipes. Patatas Bravas, pescado en adobo, pilavs, paella of course, arroz negro, escalivada and other staples plus lots of ideas that might be newer to the Andalucian fan, duck with pomegranate, lomo con leche, atun con oloroso etc. etc. Fully illustrated.
"superb colection of recipes" Rose Gray
"captured so well the exciting flavours and culinary traditions" Claudia Roden
"book i've been waiting for" Nigella Lawson


and in paperback


1 Time Out and BBC Good Food awards 1998
Casa Moro
Second book from Moro



Moro East
Third book from Moro, this time the emphasis is on the east Mediterranean and their allotment in East London by the river Lea. At first glance the photos look as if they were taken in the Levante, but they appear to be of immigrant allotment gardeners! The recipes range as far west as Extremadura but are mostly the rich combinations of meat, fruit and nuts of places further east and south.


Floyd on Spain
Keith Floyd knows Spain better than all the countries he has covered . This is the book of the TV series in which he travelled to Galicia, the Basque country, Catalonia, Valencia, The Balearics, Castile and Andalucia. 205 pages of recipes with a few colour illustrations, an introduction and a chapter on the sauces, relishes and stocks used. Most of the recipes being enlivened by anecdotes from the filming of the series and his experiences of Spain, written with his usual infectious enthusiasm.


Spain on a plate Maria Jose Sevilla
A selection of classic spanish regional food from the presenter of the excellent BBC series. We particulary like her chicken jerez cooked in oloroso and roast chicken with pine nuts and raisins. As good an introduction as any to the food of Spain.
Various editions


Hardback

A season in Spain - Walker
A US couple tour Spain. The book is organised around the cycle of the vine, harvest, pruning and budbreak. Idiocyncraticaly printed in green ink. 500p.


Spanish Food & Cooking - Pepita Aris
All the Spanish classics recipes with an short introduction to Spanish food, fully illustrated.


Spanish Cooking - A fiesta of original regional recipes - Pepita Aris



Delicioso Regional cooking of Spain - Penelope Casas



The Book of Spanish Cooking - Walden



My Kitchen in Spain - Mendel



The Spanishwoman's kitchen - Pepita Aris
Authentic family recipes


Paella - Penelope Casas



Traditional Spanish Cooking - Meald



To the Heart of Spain - Walker




Life and Food in the Basque country Maria Jose Sevilla
Maria Jose Sevilla is a representive of the Spanish food industry in London. This book is an in depth look at that most interesting culture in the north of the Spanish penninsula. There is a saying that "in the south they fry, in the centre they roast and in the north, they cook ", I suspect it was a Basque who said it ! Covers the gastronomic societies, fishermen, mountain craftsmen, cider and farmers as well as professional chefs. A beautifully written account of life in the Basque country, where both men and women have a passionate interest in, and respect for, good food.


also consider:-


The Basque Table - Barrenechea
Passionate home cooking from one of Europe's great regional cuisines.


The Basque Kitchen - Hirigoyen
Tempting food from the Pyrenees




Tapas The little dishes of Spain - Casas 220p
The title says it all really. A few hundred tapa recipes so you can make your own tapas!



New Tapas - Dunlop 192p colour
If you're beyond the beginners stage this is a book for you. So many english language books on Spanish food go over the same tired old topics, this one moves on. Split into six regional sections that each feature a selection of the best new chefs of that area illustrated with lively and atmospheric photography as well as those vital recipes. The book closes with a short list of top tapas bars to visit. The recipes include:- Tortilla with whisky sauce, ostrich carpaccio, goats cheese with honey, tuna with ginger rice, red pepper and anchovy tarts, clam and ham in chilli, chick peas and black pudding, anchovy and trout caviar toasts, smoked salmon and curd cheese on tomato confit and chicken stuffed with salmon in curry sauce. Inspirational.



coming soon "Art Food:Tapas" Maria Jose Sevilla



see also "Tapas" Lissen



Tapas Fantasticas - Simmons
This might suit, depending on where you live:-
"Spanish tapas, or introductory appetizers, are easy to prepare and this cookbook focuses on the simple recipes which don't necessarily require access to seafood, unlike some of the larger, more in-depth Spanish cookbooks" Midwest Book Review (my bold emphasis).


The Foods and Wines of Spain Casas
450 pages of recipes from all parts of Spain. Penelope Casas is a US citizen who has studied and travelled widely in Spain , to the extent of marrying a Spaniard, thats what I call taking research seriously ! A slight disadvantage if your English is that it is written from a US perspective and sometimes confuses by refering to South American rather than Spanish terminology.


The Wine and Food of Spain Jan Read Maite Manjon Hugh Johnson
This gastronomic guidebook covers the cuisine, the wine, the landscape, cities and traditions. The restaurant listings are however bound to be a hostage to fortune here, as in any non annual book.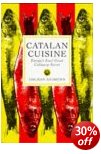 Catalan Cuisine: Europe's Last Great Culinary Secret - Colman Andrews
History, culture, and cuisine.


The Catalan Country Kitchen Miramar Torres
Miramar Torres of the Torres wine family writes about her native Catalan cuisine. 100 authentic recipes.