Arroz Negro/ Arrós Negre
(This dish is claimed to originate in both Catalonia and Valencia).
Buy some small squid complete with their ink (or get sachets (Harrods, also Waitrose
have them sometimes )
Make a sofrito of an onion, a couple of tomatoes and some garlic in olive oil.
add the cleaned and cut up squid and fry for a few minutes.
add paprika, a cup of rice rice and a sliced up preserved red pepper.
add just enough fish stock or water that the rice will be able to absorb.
If using a sachet (1 or 2 per two people) of ink dissolve ink in a glass of dry
sherry, if you were lucky enough to get "fresh" ink you can drink the sherry.
add ink to the pan and stir in thoroughly so that the rice is all blackened.
When rice nearly soft add a handful of frozen peas
When the rice cooked leave it to rest for a few minutes while you finish the
bottle of sherry (dont stir this dish much after the ink has been added) it should
be failry dry with the water absorbed into the rice.
Serve with red wine.
Fricandó de Ternera a la Catalana
Brown boned veal in oil. Remove.
Sweat onions. Add a couple of chopped tomatos and a big splash of white wine. Add chicken stock, bay leaf, parsley, thyme and moixarnó mushrooms (marasmius oreades). Simmer for an hour or more until tender.
Make a piccata of almonds and garlic with a few strands of saffron added. Add near the end of cooking to thicken the stock.
Homage to Catalunya - a few recipes in the style of the Catalan kitchen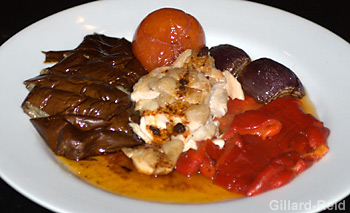 Aubergine, tomato, onion,red pepper, chicken breast, paprika, pine nuts, olive oil
Roast the chicken breasts.
Start to roast the onion halves first (medium oven), the add the pepper and aubergines, coated in olive oil.
Last, add the tomato.
When the red peppers have collapsed, peel them and remove seeds. Slice the aubergine and pepper. Make a sauce from the vegetable pan juices with a little paprika added. Brown some pine nuts in a dry cast iron pan. Slice the chicken and plate with the pine nuts as a garnish on the chicken.
Leeks with Romesco sauce and Catalan sausages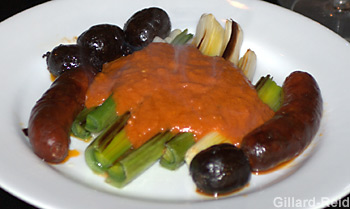 Leek, split lengthways.
Catalan soft sausages and black pudding
Romesco sauce,
Bake the sausages in a medium oven. Grill the leeks after coating in olive oil.Serve with romesco sauce.

Romesco sauce (salbitxada)
2 red peppers, roasted, skinned and deseeded.
I slice of bread, toasted.
4 tomatoes, peeled, cored and chopped
about 2 oz of almonds
2 garlic cloves
a nora
a teaspoon of paprika
a splash of red wine vinegar.
Blend all ingredients together then drizzle 4 fluid ounces of olive oil into the sauce while blitzing.
Reserve and warm through as needed..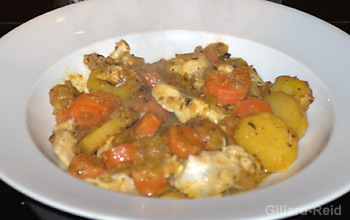 Sea Bream or similar, old potatoes, carrots.
For sauce: almonds, parsley, fish stock, a tomato, saffron, spanish brandy.

Fillet the fish and make stock from the head and bones. Reduce. Soften a chopped onion in olive oil. Chop a cored tomato and add to onion. Add chopped parsley and saffron threads and fish stock. Reduce.
Part fry the sliced potato in olive oil.
Part boil the carrots slices in water.
combine all ingedients after thickening the sauce with ground almond. Add a little spanish brandy. When nearly cooked add the cut up fish.


Chicken with prunes and pine nuts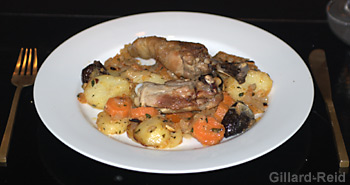 Chicken, pine nuts, prunes, potatoes, carrots, almonds, thyme
Fry the chicken in olive oil to brown. Remove.
Slice an onion and fry in the olive oil. Add the tomatoes. Add a glass of white wine. Put the chicken back in. After 10 minutes add sliced potatoes and carrot and thyme.
Make a picada from some almonds, a couple of cloves of garlic and some peppercorns. Add to the stew 15 minutes from end of cooking. Just before serving add a handful of pine nuts and a couple of agan prunes that have been soaked in water.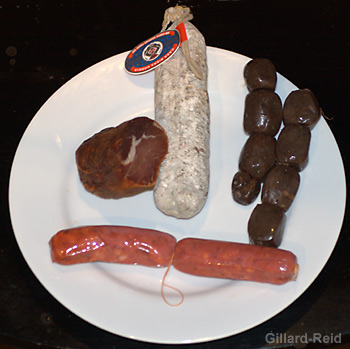 Lomo, Sauchichon Vich (Vic) and black pudding.
Chorizo