Asturias and Cantabrica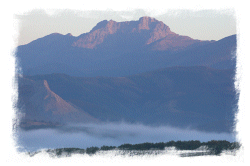 Famous for fabada asturianas, a filling pork and bean stew, its cider (sidra) and its excellent blue cheese Cabrales. Also salmon and trout from the mountains.
Sidra ("natural") is a locally produced product sold in plain green bottles and is still. Aeration is applied by a remarkable pouring method. The glass is held low in one hand whilst the bottle is held at shoulder height and cascaded into the glass and drunk immediately.
(An industrially produced carbonated version is produced for export). As in Galicia, horrios (grain stores) are a frequent sight

usually of wood here.
Cantabria has a fascinating coast arounf San Vincente

, famous caves at Altamira and to the south are the Picos de Europe mountains. Santillana del Mar, no longer on the coast is an attractive town with a parador.
Cabrales is a mixed milk cheese, naturally blued in the limestone caves of the Picos mountains. A more commercial version, "Picos blue" is also available.
---
Fabada Asturiana
If like me you bring serrano hams back from Spain[1], cut off a chunk and soak in water, otherwise use any chunk of cured ham. Also soak 2 cups of white beans overnight. Next day, fill a casserole with water and add the drained beans, ham and a sliced chorizo sausage. Cover with water and simmer for 2 hours, skimming when needed. Towards the end add a sliced morcilla (black pudding). You probably wont want a starter with this, unless you have just climbed a mountain !
If the stock is too thin, puree a few of the beans and add back to the pot.
1 Post FMD only possible if hermetically sealed, consult current customs leaflet.
---
See also :-
Cheese
Wine
Spanish cookery books
Food reference books
Walking in Spain | Spanish photos | Spanish pronunciation & general guidebooks | Andalucia | Asturias | Basque Country | Canary Islands | Castile
Catalonia & Balearics | Extremadura | Galicia | Navarre | Valencia | Tapas | Glossary | Books