Andalucía (Andalusia) Food, cooking and flamenco
Cadiz - Sanlucar de Barrameda - Cordoba - Malaga - Ronda - Jerez - Granada - El Puerto -Sevilla(Seville), often overlooked, Almaria and the Cabo de Gato


are situated in the quieter, more agricultural east.
Andalucia is the deep south of Spain and home of flamenco. It is the land of salads, fried fish and seafood and the famous cold soup gazpacho, not to mention sherry.


Fritura is fish and/or seafood fried in thin batter.
Parillada is a selection of griddled fish and seafood.
The commonest way of cooking fish is "a la plancha", simply griddled and served drizzled with olive oil, garlic, lemon and parsley.
Pescado a la sal a whole fish cooked in a block of salt. (Many sea salt pans are to be found in Andalucia, giving a readily available supply).
Gazpachocold soup of tomatoes, garlic, cucumber, peppers and onion
The most prized fish of eastern Andalucia is the Mero, Restaurante Tempranillo Website in San Jose serves it with small clams in a emulsified (egg and oil) clam sauce, accompanied by thin chips.
Moros y Cristianos - (moors and christians) rice with black beans, which reminds us of the strong arab influence in Andalucia, long occupied by the moors.
Cadiz(seafood - tapas in the old town and restaurants behind the beach in the newer town, we like Mariscos La Marea, Paseo Maritimo 1), "El Faro" website is a top class elegant restaurant (formal with slightly over fussy service) in an unprepossessing street near "La Caleta" (junction of Venezuela and San Felix) make excellent tortillitas and specialise in "a la sal" dishes as well as more innovative creations). For something cheaper try "Grimaldi" in Calle Libertad just by the central market.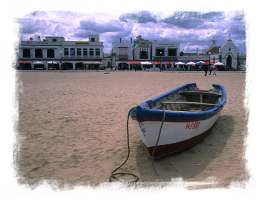 Sanlucar de Barrameda

- restaurants overlooking the Guadalquivir

along Bajo de Guia

-"Casa Bigote", "Mirador de Donaña", "Poma", "Secundina" and others, there are of course restaurants around the plazas of the town and in a couple of places, in a converted bodega.
Cordoba.

Cordoba's juderia or old quarter is a maze of narrow alleys where a number of excellent restaurants are housed in the open interior patios of old manor houses. Try them for breakfast, lunch or dinner and if you get the right waiter the service will be as entertaining as the food is enjoyable. One of our favourite dishes is "cardos con gambas y almejas", cardoon in seafood stock with baby clams and prawns.
Cordoban restaurants: "Restaurante de Federacion de Penas"

, "El Churrasco", "Los Deanes", "Casa Pepa de la Juderia".
Perhaps the best known restaurant in Cordoba is "La Caballo Rojo"

, near the Mesquita

, serving mozarabic dishes (typically meat and game in warmly spiced, sweet, fruity or Pedro Ximenez sauces), a little more formal than some and a popular night out destination for animated groups of Cordobans. "Bodegas Campos" is also very good <website>.
(the main restaurants in the Juderia are signposted for pedestrians - it goes without saying that here as in most spanish old quarters the car should be parked and forgotten until you want to move on).
Flamenco can often be seen in the patio at "El Cardenal" Torrijos 10, next to the Mezquita. Although aimed at tourists, the quality can be very good.<website>
Cordoba is quite traditional and much is closed on Sunday evenings.
Hotels
Malaga.

The parador Gibralfaro has an excellent restaurant and there are some smart bars, some rather reminiscent of English pubs, below it in the town. The old town east of the Guadalmedina has many good bars and restaurants. We liked "Cortijo de Pepe" on Plaza de la Merced for tapas and "El Chinitas" <website> on Calle Moreno Monroy 4-6. (95 221 09 72) for a full meal or tapas in a traditional environment (smart). "El Chinitas" is just to the south of Plaza de la Constitution off Marques de Larios. Remember to order a Malaga brandy when here, "1866" being a good example.
Ronda has an excellent (modern) parador and "Pedro Romero" opposite the bullring, named after the famous bullfighter.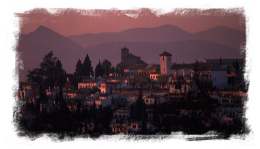 Granada. The parador, in the grounds of the Alhambra

, if you can get in or Mirador de Morayna in the Albaicin

. It is also interesting to drive out and up to Pico de Veleta for a drink, snack and mountain views.

But don't expect luxury in the mountains, where it's too high to pump water and generally below zero.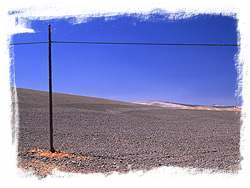 The bustling sherry town of Jerez is sometimes overlooked but a short stay in the excellent Hotel Jerez website (now back to 5 stars, excellent restaurant) allows for a pleasant if rather long walk down Avenida Alcalde Alvaro Domecq to the innovative "El Gallo Azul"

tapas bar <browse menu> with restaurant upstairs (junction of Larga and Santa Maria) and on to Plaza del Arenal and the alcazar (you could make the fascinating "camera oscura" there an objective), with the old town beyond.
El Puerto de Santa Maria.

We stay at "Hotel Monasterio San Miguel",

only a few hundred yards from the bustling restaurant area (walk down Calle Chanca and turn right) along the Rio Guadalete at Calle Ribera del Marisco

, mostly seafood but don't overlook the impressive asador. Cadiz's El Faro has a sister restaurant "El Faro del Puerto" up beyond the bullring (Carretera Fuenterrabia/Calle Valdes, just walkable, taxi better), set in the edge of a park.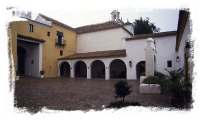 Sevilla. (Seville) Tapas in "Triana"

is the "must do" here. Calle del Betis and Calle San Jacinto on the south bank of the Guadalguivir. "Kiosko de las Flores" does wonderful fried fish.
In the "La Macarena" area "El Rinconcillo" is said to be the first (1670) tapas bar (Plaza de los Terceros) but remember its a pilgrimage place for tourists so be prepared to politely decline the waiters sales line of a whole meal, there are many other bars to try! Here's one not to try

.We like to stay in the "Casas de la Juderia"

---

Dorada a la Sal
Take enough salt to bury the fish, put half the salt in a large casserole and make a depression for the scaled and gutted fish, which is then buried. A little water can be sprinked on the salt to consolidate it.Cook in a medium oven for about 40 minutes for an average sized fish. Break open the salt and serve with potatoes.
Gazpacho
soak a slice of bread per 1 lb of tomatoes for an hour
RIPE plum tomatoes skinned and seeded
1 garlic clove per pound of tomatoes
a little good Spanish extra virgin olive oil (I like Carbonell or the one the paradores sometimes sell.
a good splash of good sherry vinegar
salt
1 cup of water per pound of tomatoes
blend and refrigerate
serve with bowls of chopped onion, cucumber, green pepper &
and olive oil crutons.
(There is also a white garlic based version).
Clams in sherry
Fry finely chopped onion and garlic in olive oil, add seeded, skinned and chopped plum tomatoes and some paprika. Cook down and then add dry sherry (try dry oloroso). Bring to the boil and then add the clams and cook until opened. Serve with bread.
---
Iberico and Serrano ham
"Serrano ham" comes from the white pigs of Trevelez (Sierra Nevada) and Teruel (Aragon).
"Iberico ham" comes from the black Iberian pigs (Cerdo Iberico) extensively farmed in the hills of Andalucia (and on the extensive dehesas of Extremadura) near Huelva, feeding on the acorns of the cork oaks, the bark of which is also used to make wine corks. Jabugo (Sierra Morena) is the most famous of some 30 producers, who are considered to produce some of the best Spanish ham. The dry mountain air with low night time temperatures contributes to the salt curing of the ham and the production of the penicllium mould that forms on it.

Ibirico website
Bellota is 75% Iberian, with 40% of weight gained in extensive conditions.
Recebo up to 30% of fatening on grain.
Pienso/cebo/campo grain fed Iberian ham.
Walking in the Sierra Aracena