The historic Paradors (Paradores) of Spain (and a few modern Paradors)
A partial list based on personal visits.

Click on "cameras" for images of parador or its location.

Aiguablava (modern)


Comfortable coastal parador.
Alarcón


Dramatic castle on the meseta.
Alcala de Henares


New parador, formerly restaurant only. Part historic convent, part modern.
Alcañiz


Hilltop castle above interesting town.
Almagro


Convent in historic town with early theatre, many rooms retain convent character.
Arcos



In centre of classic Andalucian "white town".
Avila


One of the highest cities in Spain, palace parador with walks along city walls.
Baiona


A favourite. Castle on the coast with rampart walk down into the town with many seafood restaurants as well as good seafood in the parador restaurant.
Benavente


Castle next to "balcon" paseo, ground floor rooms adjoin pool.
Cáceres


Beautiful palace in middle of historic walled old town.
Cadiz (modern)
Hotel Atlantico is wonderfully placed to explore old Cadiz

.
Cambados


Palace close by the sea.Ideal for sampling wine and seafood from the Rias Baixas area.Cambados has a market

on Saturday where you can sample local cheese and ham.
Cangas de Onis
Ex monastery set in spectacular mountain area.
Cañadas del Teide (modern)


Located in the caldera of the old volcano. Exceptional unpolluted night sky and views of Teide.
Cardona


Majestic castle overlooking salt mines.
Carmona


Cliff top castle reached through streets of old town.
Cervera de Pisuerga


Not an historic buliding but one of the several mountain lodge style paradors situated in mountain areas.
Cuidad Rodrigo


Castle surrounded by extensive city walls, which make a great paseo.
Cuenca


Situated with perfect view of the hanging houses.
Chinchón


Near the charming town's Plaza Mayor

with an elegant restaurant.
El Hierro (modern)


Beachside, on the east coast.
Granada


Surpassed only by Santiago, this parador is set in the grounds of the Alhambra,

in summer outdoor dining with guitar accompaniment and views of the Generalife not to be missed.
Guadalupe


Next to the monastery, beautiful interior patio and walks through the old town with its houses upper floors supported by wooden rather than stone columns.
Hondarribia


Cleverly restored castle, bed and breakfast only.
Jaen
Stern castle, possibly the most impressive parador castle, strangely never quite works for us.
Jarandilla de la Vera
Castle-palace with unusual stonework.
La Granja


Spa palace in royal retreat with grand waterfalls.
Leon
Five star grand lux to rival Santiago in theory but not in practice for us.
Lerma


Classic castle on town square with a few of its (non standard) rooms eccentrically squeezed into turrets. Wonderful atmosphere in lounge and restaurant.
Limpias


Palace set in woodland with modern extension.
Malaga Gibralfaro


Small parador in dramatic location above Malaga. Modern rooms but ajoining castle. Malaga golf is a modern parador very close to the airport.
Merida


There is a arabic flavour to this parador convenient for the impressive Roman ruins.
Montforte de Lemos


Hilltop palace above modern town with ajoining castle that may be visited. Some rooms in modern extension to rear.
Olite
Fascinating complex castle with parador in a wing.
Oropesa


Palace parador with adjoining castle.
Plasencia


15th century convent parador in walled city. Do not miss the "bar de la noche" for an extravagant (in all senses) late night drink.
Pontevedra



Manor house situated in the centre of old Pontevedra
Ronda (modern)


Set between the famous bridge and the bullring.
Salamanca


Spacious modern parador in walking distance of historic university city centre.
Santiago


Former royal hospital, set around four interior patios and next to the cathedral in the town square which is the destination of the many pilgrims and walkers taking the "Camino de Santiago". Five star grand lux.
Santillana del Mar



No longer on the coast, the town's parador is now in two charming building around a square.
Santo Domingo de la Calzada


12th Century hospital with beautiful interior.
Santo Estevo (Luintra)


Superb isolated monastery with preserved cloisters and dramatic restaurant. Modern fittings blend perfectly with ancient building.
Segovia (modern)


A modern parador in a stylish design overlooking the old town
Seu d'Urgell


Modern Parador bulit round ancient colonade in superb location beneath Pyrennees. Charming small old town with 1992 Olympic kayak course.
Siguenza


Hugely impressive castle in quiet town still bearing scars of civil war. Stately public rooms.
Sos del Rey Catolico


Birthplace of Ferdinand in Navarre, this small town is partly restored and partly undergoing restoration.
Toledo (modern)


Tortosa


10th Century castle in commanding position in town near Ebro delta. In 2006 looking a little frayed at the edges and I have to say the restaurant service, while willing, has not been up to normal standard on our two visits.
Trujillo


16th Century convent in fortified town with large castle. Look out for an example of the revolving doors that nuns use to sell sweets to the public.
Ubeda


Impressive palace with interior courtyard.
Vilalba
Originally contained in a tower with charming curved rooms, this Parador has been extended since our last visit.
Zafra


The palace castle of Hernan Cortez near the interesting linked double main squares of the town, Plaza Chico and Plaza Grande.


Zamora


Palace in city containing many old building and churches.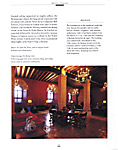 Historical Paradors
A journey through spanish hotels
29 of the historic paradors described in words and quality photographs.
Hondarrabia, Olite, Leon, Santiago, Villalba, Pontevedra, Baiona, Zamora, Cuidad Rodrigo, Jarandilla, Oropresa, Cacares, Trujillo, Guadalupe, Merida, Zafra, Carmona, Granada, Jaen, Ubeda, Almagro, Alarcon, Cuenca, Chinchon, Avila, Siguenza, Cardona, Tortosa and Alcaniz.



Habitaciones Unicas - Unique rooms
Hotels in locations without central Paradors
Barcelona Moo and others
Bilbao Hotel Grand Domine (modern)
Cordoba

Hotel Maestre (traditional building, modest, functional).<website>Alfaros (modern, comfortable) <website>
Puerto de Santa Maria Hotel Monasterio San Miguel, .<website>
Sevilla Casas de la Juderia, <website>
SalamancaPalacio de Castellanos <website><booking in english>