Gaudi in
Barcelona


Barcelona
and the Ramblas

Palma, Mallorca


The Pyrenees
and Catalan
mountains


Catalonia (Catalunya) and the Balearics, Barcelona and Palma, Mallorca
Sophisticated Barcelona is the capital of Catalonia and as expected has a rich variety of restaurants. A good selection may be found without going far from the Rambla and Balconeta. Make a point of seeing some of the Gaudi designed buildings such as Park Guell

and the famously unfinished La Sagrada Familia.

Away from the major cities rural Catalunya stretches up into the Pyrenees and other lesser mountain ranges.
In general expect beans, sausages, salt cod and fish and seafood casseroles.
Dali lived in Catalunya and a visit to his house can be combined with a top class restaurant in Figueres.
The Costa Brava is well known as a holiday destination but is also home to arguably the worlds best restaurant "El Bulli".
Catalan is the language here and although Castillian is understood menus will often look unfamiliar, even to the seasoned traveller to the rest of Spain.


Arrós Negre - Squid cooked in its own ink with rice, peas, red peppers, garlic and onion. This dish is claimed to have originated in L'Empordá in northern Catalonia but this will be disputed by Valencians.
Allioli - emulsified olive oil and garlic
Butifara amb seques is fried white sausages with the white beans popular in Catalonia.
Bunyols de bacalla - salt cod fritters
Coca - Catalan "pizza" tart
Crema Catalana - the classic dessert of Catalonia may have been the origin of creme brulee.
Embutidos - platter of sliced sausage and meats.
Escalivada - peppers, tomato, aubergine and onion , all roasted in a little olive oil.
Fuet - sausages of dried meat.
Fideus - a "spaghetti" based dish, imagine a paella made with pasta.
Frito Mallorquin - Mallorcan liver and vegetable fry.
Gambes amb pollastre - "Mar i muntanya" - prawn and chicken (a lobster and chicken form may be found). cooked in a piccata of almonds, garlic, herbs and saffron.
Pa amb oli - olive oil drizzled bread rubbed with (optional) tomato and garlic ( Mallorca ). This speciality is spreading across Spain as a tapa. Pa amb tomaquet is the mainland Catalan version
Pato con peras - duck with pears.
Romesco sauce - red pepper sauce.
Sarsuela (or Zarsuela) - seafood stew.
Suquet - fish or seafood and vegetable stew.
Sopa d'farigoli - thyme soup
Tumbet - Mallorcan aubergine, courgette and potato fry.
Xató - a salad of endives, anchovies and tuna (usually canned),olives and onions with a sauce of almonds or hazelnuts, garlic and ñoras. Served with small vegetable omelettes.
(Dish names vary between Castillian, Catalan and Mallorcan languages).
Typical wines to try are the rich red Priorat and the white staples from Torres, such as Vina Sol and the fruity Esmarelda. Cava is the sparkling wine of the region.
Most restaurants will stock Torres brandies in 5 or 10 year old form.
Vichy Catalan is a pungent and addictive table water.

Allioli
Mayonnaise is said to have been named after the battle of Mahon, when Mahon (Mau), capital of Menorca, was captured by the French, hence its original name Mahonnaise. The Catalan approach uses only garlic and olive oil, classically without egg as a stabiliser, to create this ubiquitous sauce. Wonderful with prawns as well as many other things, or simply enjoy it alone with some crusty bread.
Fricandó de Ternera a la Catalana
Some recipes in the style of Catalunya
Escalivada with chicken
Leeks with Romesco sauce and Catalan sausages
Suquet de pescado
Chicken with prunes and pine nuts




Catalan
The Catalan language is spoken in Catalonia, Andorra, the Baearics, Sardinia and southern France. Many words are similar to Castilian - "yes", "no", "hello" and "exit" being examples but then "closed" - "tancat" is not at all familiar and toilets may be marked "D" and "H" from "dona" (woman) and "home" (man).
The language sounds very different from Castilian, some examples are:-
ç or ci or ce which are c as in acid. (Other c's are as in car)
gu or ig which are ch as in match.
ll which is as lli in million.
j which is as s in measure.
There is an online dictionary.

Food vocabulary
Arrevossat - in breadcrumbs
Arengada - salted herrings
Arrossejat - fishermans rice dish
Ametlles - almonds
Alberginia - aubergine
Amanides - salads
Arengades - dried herrings
Bacalla - Salt cod
Barreja - mixed drink
Barat - mackerel
Bitxo - hot pepper
Butifara - Catalan "soft" sausage
Butifara - blanco - soft mild sausages (when compared to chorizo).Negra are black pudding.
Calçots - similar to leeks, often served with romesco sauce.
Cap Roig - Scorpion fish
Carbassa - pumpkin
Cargol - snail
Carquinyoli - biscuit
Carxofa - artichoke
Casaca - batter
Cigron - chick pea
Conill - rabbit
Cremada - burnt
Escudella - cooking pot and the soup made in it
Espinagada - spinach pie
estofada - stews
Farivola - thyme
Faves - broad beans
Ferat - fried
Forn - oven
Greixonera - Mallorcan Cazuela
Guisats - simmered
Hobarro - Sea Bass
Lubrigante - lobster
Macarrons - macaroni
Mongetes - beans
Musclos - mussels
Panades - pies
Panellets - almond cakes
Peix - fish
picada - pounded ingredients used to thicken sauces - liver, bread, garlic, piniones (pine kernels) etc.
Pilota - dumpling
Pollastre - chicken
Romesco (Salbitxada) - Catalan pounded sauce typically of bread, garlic, tomato, almonds
Sarsuela - literally a musical comedy of fish, a fish stew
Truita - tortillas
Trufa, tofono - truffles
Tomaquet - tomato
Truita - tortilla
Vaca - beef
Vedella - veal
Vi ranci - rich sauce from an old wine
Xia - lamb
Xanguet - whitebait
Xató - a salad of endives, anchovies and tuna (usually canned),olives and onions with a sauce of almonds or hazelnuts, garlic and ñoras. Served with small vegetable omelettes.
Xocolata - chocolate
Castilian

The Catalan donkey (Guará Catalá)
The Catalans have adopted their distinctive breed of donkey as a car sticker, although you will also see the stripes of the Catalan flag or a "C". No doubt they see it as a symbol of hard work and industry, the rest of Spain may wonder why they would want to be seen as donkeys rather than the Spanish Osborne bull.
Palma, Mallorca
Mallorca is often described as Spain in minature, with the mountains in the north and a central plain. The capital, Palma makes a great long weekend destination. Besides the Cathedral, Castle, Moorish Palace, shopping (clothes and shoes around Plaza Juan Carlos1 - spices including good value saffron and ñoras in "Crespis" - Sindicato) there are a range of bars and restaurants. Although popular with tourists, the capital's culinary traditions are too strong to be diverted into fish and chips for the Brits'. Try Pa amb Oli, (the bread and oil speciality), tumbet or fritas or lomo con col (succulent pork wrapped in cabbage with a rich tomato and morcilla sauce) .
We recently stayed at Hotel Mirador Paseo Maratimo 10 (971) 732046 Fax (971) 733915 www.hotelmirador.es mirador@hotelmirador.es on the harbour front which is close enough to the centre to walk to most places (taxis are plentiful if needed). Beautiful antique trains run from the centre of Palma to Soller in the north for a day out. In Palma there is an excellent central market near the station (not to be confused with the wholesale market on the waterfront).
Our favourite restaurants are:-
"Celler Sa Premsa" - Plaze Obispo Berenguer de Palou 8 (971) 723529 Fax (971) 715904 www.cellersapremsa.com
Not the top quality in food but great atmosphere! A "must do". A cavernous hall lined with massive barrels, customers of all age groups, families, beautiful people, tourists, all mixed in. Go for Mallorcan specialities (they don't seem to cook "foreign" food well) like frito or tumbet. (cheap).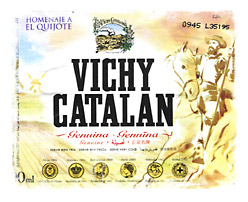 "Miramar" Avenida Mateo Bosch 22 in Puerto Andraix. (971) 671617 Fax 673411 miramar@bitel.es
On the harbour front. Catalan specialities (expensive 110 e for 2 inc wine, brandy). Try Arroz Negro or Arroz Marinera and the entremeses (starters) are a must. If you order water, ask for a bottle of Vichy Catalan, a highly distinctive mineral water from Girona.
"Casa Gallega" Pueyo 4 (971) 721141
Very popular, busy Galician tapas bar with restaurant (comedor) upstairs. Expect to wait. Eat the hake (Merluza gallega) (moderate).
The north east - Alcudia
Much of Alcudia bay is now heavily developed. Puerto Pollensa retains some charm and I would recommend "Iru" in an unpromising position on the pedestrianised touristy waterfront near the marina or "Barlavento" for a more traditional approach to classic spanish cuisine (opposite Puerto Alcudia's fishing harbour).
Feb 2002-June 2004
Barcelona

Barcelona is a large, mainly modern city. Inland from the Placa Catalunya the city is designed on a grid plan of road with modern medium rise buildings, interspersed with Gaudi's gems.
"Las Ramblas"

run down to the harbour through the old town of narrow, sometimes tatty streets. Half way down Las Ramblas is the Boqueria food market

, well worth a visit.
On the waterfront, Barceloneta has a wealth of fish restaurants. (If visiting in winter its worth bringing a warm coat to have Sunday lunch there (some of the better restaurants in Barcelona are closed Sunday night). "7 Portes" Po. Isabelle 11, just inland of Barceloneta is a traditional indoor restaurant open on Sunday (reserve at busy times), (Gourmetour 6.75 - 2003). Carballeira - Reina Cristina 3 is a friendly Galician restaurant (indoor) at the start of Barceloneta.
On our most recent visit (2006) there seemed less obvious signs of crime than before. Prostitution appears to have been forced out of the Ramblas area onto the airport road (which is El Prat, whatever Ryanair tell you about Girona (Costa Brava)) and the football stadium. With the advent of very cheap flights there is an influx of Brits of all types enjoying the lively atmosphere of the Ramblas.
Where to stay and eat in Barcelona?
For Gaudi and up market shopping stay inland from the Plata de Catalunya :-
Hotel Majestic and its restaurant "Drolma" (Gourmetour 8.25, classic cooking) Passieg de Gracia <website>
Omm and its outstanding restaurant (by the Roca brothers, Catalonias other culinary legend) Moo for a modernist approach <website> at Rosello 265 (junction of Diagonal and Gracias, next to Gaudi's Casa Mila).
For being in the thick of things on the Ramblas :-
Hotel Rivoli Ramblas.


<website>
For an historic building near the old cathedral with innovative food and a design bent try Neri <website>
For a reasonably priced meal there are a number of tapas bars/restaurants on or around the Ramblas, we liked "Egipte" at Ramblas 79 and "L'Oliva" at Carrer Javellanos 2 (just south of the Ramblas).

Tapas bars in eastern Barcelona
Barri Gotic and Born-Ribera (between Ramblas and Ciutadella Park)
Comerçe24 - Commerç 24 For something smart try modern Catalan tapas at (reserve - phone 93 3192102), run by Carles Abellan of El Bulli and Benazuza. .
Santa Maria - Commerç 17 modern Paco Guzmán
Petrvs ("Petrus") Josep Anselm Clavé 27 glass floor reveals roman foundations. Stylish.
Taller de Tapas - Plaça de Sant Josep Oriol 9
La Pineda - Carrer del Pi 16
Bodega La Palma - Palma Sant Just 7
Vinissim - Carrer de Sant Domenech del Call 12
La Bombeta - Maquinista 3 for "bomba" croquettes
Bar de la Plata - Carrer de la Mercé 42 whitebait
La Vinya del Senyor - Plaça de Santa Maria 5
Mar del la Ribera - Sombrerers 7 Galician and Andalucian
Origens 99.9% - Vidreria 6-8 shop and tapas, all Catalan
Cal Pep - Plaça de les Ollles 8 fish from the market
El Xampanyet - Montcada 22 cava
Euskal Etxea - Montcada 1-7 Basque
Taller de Tapas - Argentaria 51
S:Pic - Ribera 10
Barceloneta
El Vaso de Oro - Bilbao 6
La Cova Fumada - Baluart 9 bomba
Can Ramonet - Carrer Maquinista 17
Bar Jai-Ca - Carrer Ginebra 13
Cal Papi - Carrer Judico 7
Poble Sec (between Parallel and Montjuic)
Quimet-Quimet Poeta Cabanyes 25 founded 1914
Rosal 34 - Carrer Rosal 34 modern
Can Fabes (Sant Celoni) is a dramatic restaurant near Barcelona (Gourmetour 9.5).
Girona
El Cella de Can Roca, the brothers Roca run this Gourmetour 9.25 restaurant and have also opened the stylish Moo at Omm in Barcelona.
Costa Brava and Costa Dorada
The Costa Brava has a reputation amongst the ill informed of being just package tour hell but this does not have to be the case, especially out of season. Driving along the quiet winding undeveloped coast road we greeted the signpost for Tossa del Mar with a little trepidation, but this small island of development did not seem at all spoilt or lacking in charm. Further south, Lloret and and Salou were bigger developments, although Salou's palm lined waterfront paseo looked as attractive as when I first visited it over 30 years ago. Sitges was teeming with restaurants and bursting with people trying to find somewhere to park even on a mid winter weekend. Near the resort of Roses (Rosas), at the edge of the small bay of Cala Montjoi, can be found "El Bulli",


possibly the worlds best restaurant. Aiguablava

and its parador were excellent.
Figueres
The Hotel Empordá

<website> is a plain, sensibly priced, but fully equipped motel on the edge of town, a 15 minute walk from the Dali museum


. It is therefore possible to enjoy a day of culture and an evening of cuisine here. Restauranter Jaume Subirós cooks elegantly for a mixture of tourists and business people. There is a menu of the day, a degustacion and a la carte, all of the highest quality. (Gourmetour 8.5 out of 10 -2003)

Feb 2006