Getting to Las Bardenas

Tudela
Las Bardenas lies south of Pamplona and the Pyrenees and NNW of Zaragoza, its' sandstone rocks (exposed by deforestation) are extremely susceptible to erosion and now form a remarkable area of interest to the walker, cyclist and photographer. The hills and barancas may lack scale (646m max.) but they make up for this in impact and elegance of form.

(Anyone who has seen "Lost in La Mancha" the film of the ill fated attempt by Terry Gilliam to make "The man who killed Don Quixote" will have already seen Las Bardenas).
Access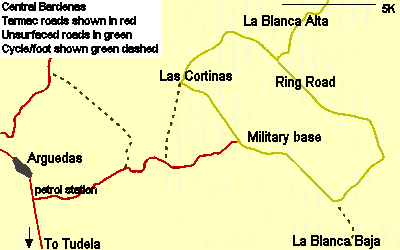 Approach Bardenas from the west along a metalled road from the petrol station just outside Arguedas (NA134 Calahorra-Tudela). This road (10k) ends at a circular military road (unsurfaced but passable by cars with care). The area within this "ring road" is reserved for military use (there is a small air force base) but walkers may roam over the rest of the area. Numerous tracks branch off this road

and small posts at track junctions indicate which tracks are open to all terrain bikes and/or 4x4 vehicles or walkers only. Penetration along 4x4 tracks by jeep may in any case be limited by "crevasses" created by rain damage. These may be a few inches or several feet wide.
Las Bardenas may be approached from other directions but our attempt from the north (Rada) resulted in little more than a very muddy jeep after numerous false leads along the many inscrutably signposted tracks, possibly partly due to a road closure.
The whole of this central area is the "Bardenas Reales" with the "Bardenas Blancos, Alta and Baja" (white, high and low) on the north side and the "Bardenas Negras" (black) to the south, beyond the NA125.
Backpacking is possible but rather impractical because of the need to carry in all water from Arguedas (Camp sites should be carefully chosen with the possibility of flash flooding in mind, especially in winter. On no account camp in barranco beds.). High summer should also be avoided due to dehydration problems.
Routes for both walkers and ATB are described in the guide book[2] but in practice it is possibly easier just to explore at will, as in my experience it is difficult to relate guide and map to reality! The few other visitors I saw were mainly using camper vans + ATB's.
Maps and guides
[2] Rutas y Paseos por Las Bardenas - Danos - Sua Edizioak (in Castilian Spanish) 9 788487187
Cartografia Militar de Espana 1:50000
26-11 (245) "Sadaba". The central/main region of Bardenas on west of sheet
26-12 (283) "Fustinana". South Eastern Bardenas inc. 4x4 tracks to Sancho Abarca

viewpoint and on to view of El Portillo de Santa Margarita.
25-11 (282) "Alfaro" North Bardenas.
25-12 (282) "Tudela". Road connections to Tudela

Tudela
Accommodation and eating in Tudela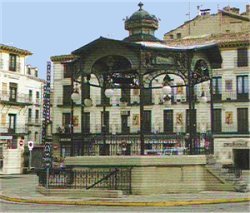 A friendly agricultural/industrial town of 26,000 people and the most convenient base for Las Bardenas. Several hotels on Avenida Zaragoza, the main shopping street parallel to the railway and the Ebro. (smart shops with quality items including excellent value leather goods).
Walking down to the lower (N) end of A. Zaragoza and to turning to the left (SW) the Plaza Major "Plaza de los Fueros" contains two restaurants and bars. The old quarter beyond the Plaza Mayor (N) holds many small busy bars serving tapas. On Sunday night (and possibly other days in winter) most restaurants (including hotel restaurants) will close. Two of the three Chinese restaurants however remain open as does the small Casa Ignacio[1] on Cortadores. Cafes and bars serve coffee and pastries at breakfast time. In the evening the Basque drinks of Txacoli and Sidra can be sampled at "Taberna" near Plaza San Jaime and the Cathedral (12th C) where the tourist office can also be found on Plaza Vieja to obtain a free map of Tudela and sketch map of Bardenas.
English generally not spoken.
Hotels :-
NH Delta * * Tel: (0034)948 821400 Fax: (0034)948 410972
Tudela * * * Tel: (0034)948 410802
Morase * * * Tel: (0034)948 821700
Santamaria * * * Tel: (0034)948 821200
Nearest Paradores to Bardenas :- Olite and Sos del Rey Catolico
Food of the region
Vegetable casseroles (usually including baby artichokes and asparagus), roast red peppers, often stuffed. Bacalao (salt cod) and hake. Suckling pig and lamb.
[1] No menu, negotiate with the owner. We had artichoke casserole flavoured with ham and menestra (green bean casserole) followed by hake with roasted green garlic. (948) 821021